This month saw the brewing of a hopleaf mead. This is rather a strange-seeming batch, and a bit of an experiment, just to see if some 15th-century Venetians knew what they were talking about. (I opted not to make anything overly complex because it's been in the low 90's and humid. Also, we've been getting pavilions ready for Pennsic outside, which is hot, sweaty, and tiring. Firing up a burner was definitely counter-indicated.)
The hopleaf mead experiment stems from a passage in a Russian book on brewing. In it, a professor writing the foreword cites Ambrosio Contarini, part of the Venetian Embassy to the Shah of Iran from 1472-1475. On the trip back from Iran, Contarini and company stopped for about six months in Moscow. Part of the story of his travels reads thus:
They have no wine of any kind, but drink a beverage made of honey and the leaves of the hop, which is certainly not a bad drink, especially when aged.
The "leaves of the hop" (hopleaf) really caught my attention. It reads that way in both Russian ("с листьями хмеля") and, once I found it, the original Italian ("con le foglie del bruscandolo").  My first thought was, certainly they don't mean hop leaves? Contarini has to be confused about what part of hops gets used. I mean, the cones are green, and somewhat leaflike.
Intrigued, I dug a little further. "Bruscandolo" is Venetian dialect for hops (Google says that "normal" Italian would be "luppolo"; and a medieval Italian-English Herbal Dictionary even went with "lupuli"). Nowadays, it apparently means the hop shoots or tips, which can be treated like asparagus shoots or fern shoots, and cooked up in a variety of ways. (I'll have to try Risotto di Bruscandolo, or Bruschetta Bruscandolo, next spring.) But I found another reference, again to a Venetian in period:
The principal imports of England are spices, sugars, and all sorts of fruit from Spain and France, wine, oil, and what they call hops (obloni), the flower of the hop plant, and the "bruscandoli," needed for the brewing of beer…
This is from an English translation of some diplomatic letters from Giacomo Soranzo, the Venetian Ambassador to France. Now we've got several hop references and names; just to confuse matters, Soranzo describes "hops" and "bruscandolo." Fortunately, he specifies "hops" as "the flower of the hop plant."
Given all of these varying terms and such, until and unless I find anything different, I'm going with the notion that "hops" (or "obloni", and maybe "lupuli" as well) are references to the hop flowers/cones, and "bruscandolo" is a reference to the plant as a whole. As such, it makes some sense to assume that Contarini meant the actual leaves. What one would get from them, I have no idea; all of the bittering oils are found in the cones. Hopleaf might (might) give you some tannins. There's bound to be some natural yeast there, as well. But experimenting is in order.
I brewed this up as a 1-gallon batch of sweet mead,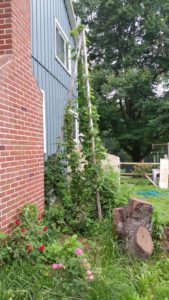 and put three full-sized, mature hop leaves into primary, lacking any indication as to how much to use. I rinsed the leaves, just to ensure there weren't any spiders, insects, aphids, or the like. The particular leaves I used were from one of my Cascade mounds, for the reason of ease of availability–I'd have had to go across the field to get Magnums or Willamettes, and did I mention it's been hot?
Having acquired the leaves, it was time to assemble the rest of the recipe. I've got about 20 pounds of Clover honey left over from a previous meadmaking spree. Three pounds or so into a gallon batch makes for a decently sweet mead. I'd thought about using K1V-1116, but didn't have any on hand, so I opted to go with EC-1118 instead. They've got similar alcohol tolerances, and both ferment out cleanly. Also, after pondering things, K1V is a "killer" strain–it kills off other yeasts in solution with it. If the hopleaf is to add anything of a yeasty nature to the brew, going with EC-1118 will allow that to come out. The rest of the batch is pretty standard, with GoFerm and Fermaid O staggered nutrient additions.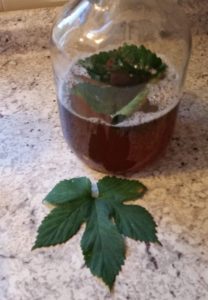 Hopleaf Mead (this is recipe #166 in my Little Black Book)
3.1 pounds of Clover Honey
1 packet Lalvin EC-1118 yeast
4.53 grams Fermaid-O (split into four additions, at 24, 48, and 72 hours, and on day 7)
2.5 grams GoFerm nutrient
3 mature Cascade hop leaves, rinsed
OG: 1.126