Between the heat, things to do around the house, and the proximity to Pennsic, this month's Brew Day was mostly cellar management. I got the beers from May kegged, and pulled a few 2.5-gallon carboys to make a couple of meads.
Cellar Management – Kegging Brews
The first of the May brews was my experiment in direct-firing the mash. Overall, it was a success for what it was–but I'd have to revamp the recipe if I were to do it again. It came out a most peculiar orange color, and the malt "backbone" was off. I'm not certain just how to describe it, really. I think if I switch the amounts of the two base malts, it would come out better. (I had 11 pounds of Munich, and 5 pounds of Vienna; so swap them to 5 of Munich and 11 of Vienna.) The hops need tweaking, as well. I think move the First Wort addition to a straight 60-minute addition; move the 10-minute addition back to 20-30 minutes, and add a whirlpool dose.
The second one to keg was for my friend Dominic; we brewed up a Pilsner-ish for him. (He's very much of the "lighter is better" opinion.) When racking it into the keg, my only comment was "this is the most Dominic beer we've ever done." It'll be a step beyond "pale straw" color, I think. Corona is probably darker. The malt and hops are well-balanced, but very light. Tasty, and it'll be great chilled at Pennsic.
Both beers were cloudy–my experiment much more so than the Pilsner.  And mine in particular was rather phenolic, a sign that things fermented warmer than the yeasts would have liked. But then, the cellar is running a very warm 80 degrees right now, supposedly–I think it's probably more like high 70's most of the time. So something needs to be done about that, in the long run.
Thoughts on future plans
I'm thinking more and more about switching my summer brewing over to a kveik yeast. They're supposedly good up towards 110 degrees, even, fermenting cleanly the whole way.  I'll have to wait until after Pennsic to try one, obviously, but I'm eager to see.
I do have a couple of questions about them: how would they do for a mead? How well do they flocculate (drop out of suspension)?  Things like that. Fodder for future experiments.
In the meantime, if I continue with "regular" yeasts in summertime brews, I'll have to see about setting up a water bath for the fermenters, even down in the cellar. (Or turn off the dehumidifier for the duration of the ferment, but everything else in the cellar would be the worse for wear.) In the long run, of course, I hope to convert the "Garage" (currently my wood shop) into the "Brewery," and set up some sort of dedicated cool space for fermenting and serving.
New Brews
This evening I'll be mixing up a pair of meads to go in the fermenters I mentioned above. Both will be 2.5-gallon batches; one will be a blackberry melomel, and the other a Pinot Noir pyment.
The main thing about these two batches is that I'll be moving out of my comfort zone, and using yeasts that I'm not as familiar with: 71B for the melomel, and RC-212 for the pyment. My "normal" go-to for meads is D-47. It plays well with most fruits, leaves a moderate sweetness, and actually improves over time when left on the lees.
I'm going with the "new" yeasts for a couple of reasons. Firstly, I'd like to expand my "library" some. I think I've learned and progressed a bit from my early days, when I used whatever wine yeast was available, as long as it was EC-1118. I'd like to see what these other yeasts can bring to the table. I mean, I keep seeing 71B mentioned as people's preferred mead yeast, but I don't have much experience with it, and a half-batch is a good way to learn. And finally, all of these yeasts evolved to do great things in their particular environments–RC-212 is great for red wines; 71B supposedly enhances berry flavors.
Each of these batches will get 5 pounds of clover honey, if only because that's what I've got available. I'll dose them up with staggered nutrients, too, then move them down to the cellar for the medium-term. I figure they'll probably clear by early September, and I can get them bottled in September, then serve them up for Thanksgiving and Christmas.
(Note to self: set up calendar reminders to go check on them periodically, to make sure the airlocks don't dry out…)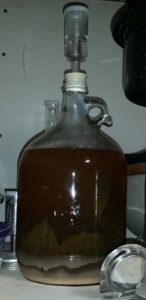 While I'm on the subject, the Hopleaf Mead continues to do its thing. It's clearing up pretty nicely, and the hop leaves are surprising me a little by slowly sinking to the bottom. I'll probably give it another week or two, simultaneously giving me time to find one of my other gallon jugs, then rack it onto some sorbate and hit it with some sort of finings before bottling it.
I'll admit to being quite curious how this one turns out. My prediction is that the leaves will, at the absolute most, only mildly affect the flavor, and it'll be a subtle "there's something unusual here, but I'm not sure what."
Bizarre Idea as a Closing Thought
This came to me in one of those half-asleep moments a while back: I should make a true "Frankenstein" batch. I've got techniques for malting and brewing from period. I've got grains from period (once I get enough of them grown up). In theory, I know how to get hops from period–or, failing that, at least their first-generation descendants. Yeast from period? Kveik (well, period enough). Add some honey (ideally from my hives), a la Trossingen. Ferment it up in a barrel, and serve it casked (either through a beer engine, or simply tapping the barrel).
Lots of planning and work would have to go into it–I'd need to grow enough Bere, and grow up the hops. I wouldn't want to use a new barrel, so I'd have to run a few batches through one, to "mute" the oak a little…
But I think this would be a wonderful thing to do, in addition to my (already-planned) "Estate Beer." What say you, readers?  Comments welcome below, or via email. (Speaking of which–I'm trying to get the blog's email list function working; if you sign up, I won't "spam" you, but only send at most a monthly newsletter, and notifications when I put up a new post. I hope you'll give it a go!)