I will, one day, brew the full version of my proposed Einbecker Bier (the "original" Bockbier). That day, however, was not today.
Today's Brew Day, on Saturday as opposed to the normal Sunday due to outside scheduling conflicts, was playing around a bit with the bones of the basic recipe (which can be found in another post–as soon as I get it written and published). I kept the 2/3 barley, 1/3 wheat grits, but scaled it back from a 1.078 SG to a planned mid-1.050's–and then hit 1.068 anyway. This should bring the ABV down from about 7.5% to a more quaffable not quite 6%. I also stepped away from the Munich malt in favor of Vienna, which should give a breadier maltiness. (In my opinion, Munich can almost get overwhelming when used in large percentages–almost a chewy meatiness, if you will. It's not bad, but generally needs to be either less than 100% of the malt bill, or hit with a large dose of hops). It also dialed the color back from garnet-amber to somewhere in the gold range, where the original Bockbier was (described in period as "golden"–and more detail will be in the afore-mentioned post).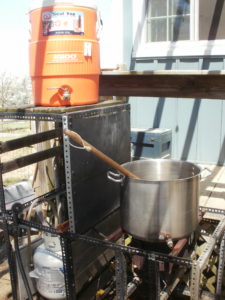 I've also fooled around with the hop schedule: where the original was all bittering hops all the time, I'm doing FWH and some late hops. This should add a bit of hop complexity, even though it's still a single-hop beer.
Lastly, I went with White Labs San Francisco Lager yeast. This choice was made to cover a number of issues. First and second, the temps in my cellar have been fluctuating around the low 50's; too warm for most lagers, but too cold for most ales-and I want this to be more lager-like, which pretty much means Kolsch yeast or San Fran. Third, given the weather has finally turned, everyone is brewing this weekend, and the yeast selection at my LHBS was pretty well decimated. None of my first, second, or third yeast choices were available, so here we are.
As things are wont to do, technical snags abounded. My first propane tank ran out while I was heating the sparge water; when I unscrewed the regulator, its O-ring broke. After quickly scrambling and scrounging out all of the other suitable propane hoses I've got, I determined that none of them had functional O-rings. A trip to the hardware store later, and my channel-lock pliers had wandered off–making connecting my second propane tank complex.
But, all things considered, it was a good day. The weather was nice, beer was brewed, and no one was killed in the making of today.
The recipe, for the curious. This is #164, in my Little Black Book.
Almost Bockbier
9 pounds Vienna Malt
3 pounds Wheat Malt
2 ounces Tettnang leaf hops (3.7% AA, FWH)
1 tablet Whirlfloc (15 min. in boil)
1 ounce Tettnang leaf hops (3.7% AA, 10 minutes in boil)
1 packet WLP-810 San Francisco Lager Yeast

Mash at 156 degrees F.  Sparge to 8 gallons pre-boil.  Boil for one hour. OG: 1.068, 5.5 gallons into the fermenter. Ferment at "cellar temps" (currently upper 50's F).
(Brewed 14 April 2018)